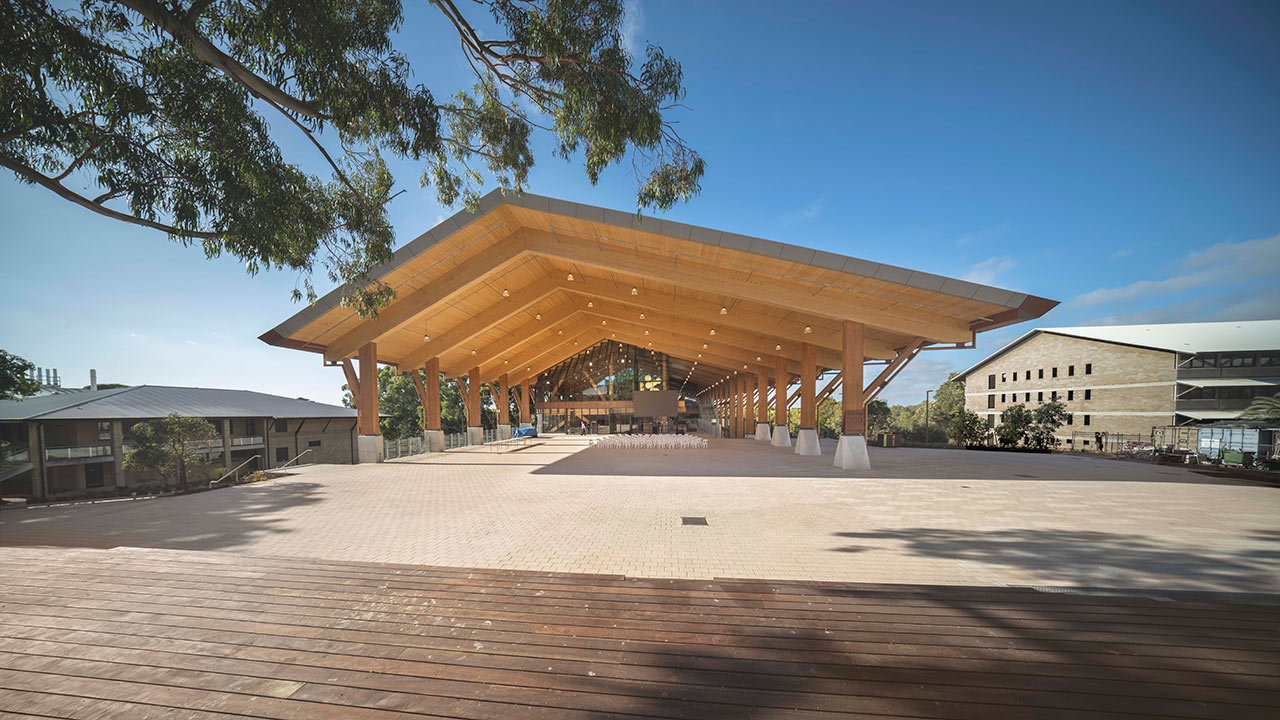 Tetra Tech delivered core building and specialist engineering services to prioritize carbon reduction in construction materials for the Boola Katitjin Building.
Challenge
Tetra Tech worked with Murdoch University to prioritize reduction of embodied carbon in construction materials resulting in a hybrid timber construction for the majority of the Boola Katitjin structure, the largest in Western Australia so far.
Solution
A linear four-story academic building comprises a concrete structure for the lower-level stories, with an innovative engineered timber frame for the upper three stories.
Working in close conjunction with the architect, Tetra Tech developed plant and riser spatial principles and color mapping drawings to geographically depict various building services solutions during the early design phases. Tetra Tech's suite of digital engineering tools was used to develop these outputs and to carry out early design verification and compliance checks.
Wind microclimate and thermal comfort studies informed the architectural and mechanical design and enabled the use of mixed mode ventilation to select areas for 40% of the year, further reducing energy consumption. Tetra Tech worked closely with the architect and facade consultant, through an iterative modeling process, to ensure the building's architecture passively controls solar gains to minimize cooling energy and enhance thermal comfort, incorporating deep eaves to the northern facade, vertical fins to the southern facade, and horizontal fins to the eastern and western facades.
Designed to achieve a 6 Star Green Star Design and As-Built v1.3 rating, the project demonstrates leadership in sustainability on a national scale. The combination of smart and informed passive design and high-performance building fabric results in Boola Katitjin exceeding NCC Section J 2019 performance requirements by 10% and resulting in a 90% reduction in greenhouse gas emissions when modeled under Green Star protocol.
The Boola Katitjin Building is designed to achieve 6 Star Green Star Design and As-Built v1.3 ratings.
16,000 square meters (172,222 square feet)
Core building and specialist engineering services designs