3-Dimensional Visualization for Aviation Technology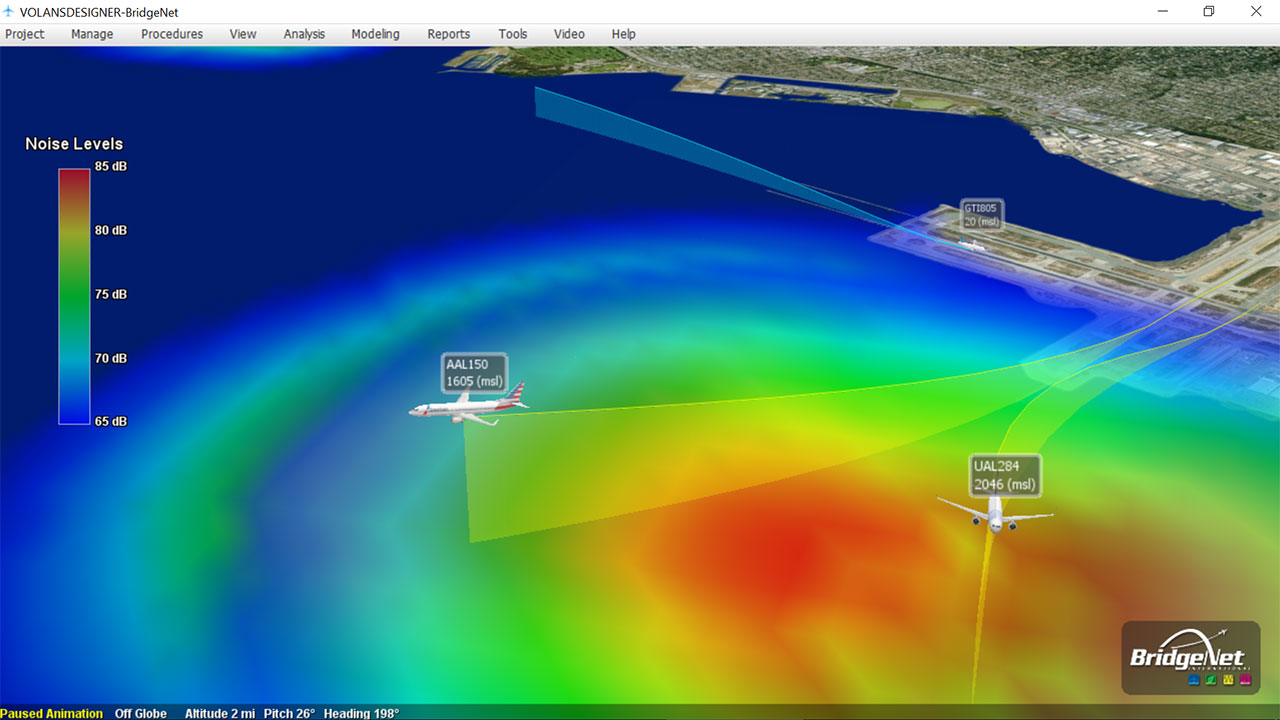 Tetra Tech's suite of aviation solutions includes Volans®, an innovative, propriety 3D airspace visualization software tool that helps technical and non-technical audiences understand complex data.
BridgeNet, part of the Tetra Tech Federal IT Group, designed Volans to display and analyze complex technical airspace and procedures. The software includes environmental and operational efficiency analysis tools to determine benefits and risks associated with new procedure development. As a visually stunning, easy-to-use, responsive, and functionally rich data visualization tool, Volans is a major player in airspace planning and flight procedure impact analysis.
Transitioning from radar-based to satellite-based navigation requires redesigning arrival and departure patterns as global air navigation service providers continue to increase safety, capacity, and on-time travel. Volans is a powerful resource in designing new flight procedures, by analyzing flight environmental impact and educating airport staff and officials before changes are finalized. The tool also helps air navigation service providers educate the public about the impact of new procedures.
Volans's capabilities include:
Determining aircraft impact on population data
Analyzing continuous descent approach (CDA), filter, and smooth radar data
Producing real-time noise footprints
Animating flights in 3D from any perspective, including the pilot's
Integrating with base maps (street, aerial, navigational), including open-source maps
Importing, creating, and modifying flight procedures
Calculating and analyzing navigational obstructions
Storing and recalling user scenarios
Performing ad hoc shifting of thousands of selected tracks to different runways or procedures for studies of proposed airfield changes
Integrating with major air traffic design products and myriad forms of flight track data and geospatial file formats
Providing data for display in web, video, and poster format
The U.S. Federal Aviation Administration (FAA) uses Volans for airspace planning, public outreach meetings, educational videos, and social media. This program is extensively used within the FAA in the Performance Based Navigation (PBN) office and the MetroPlex office to inform communities and stakeholders on upcoming flight pattern changes in major airports.
Volans is customized for integration with airport noise and operations monitoring systems (NOMS), noise modeling tools, and flight procedure design tools. Major airports within the United States, including San Francisco International Airport, Chicago's O'Hare and Midway International Airports, John Wayne Airport, Jackson Hole Airport, and Aspen Airport, use Volans to analyze noise decibel values from noise monitoring stations.
U.S. Customs and Border Protection has used Volans to help track low-flying and radar-evading aircraft illegally crossing the Canadian border.
International air navigation service providers, including NavCanada, Air Services Australia, and DGAC France, use Volans to assist in procedure design and environmental analysis for all airports in their respective countries. Volans also supports London Heathrow International Airport's Noise Office and the airport's new Third Runway project.
In addition to using Volans to provide solutions to support airports worldwide, Tetra Tech is expanding the use of this tool to other parts of the aviation industry. With its 3D animations and images and extensive aviation and air traffic knowledge base, Volans is positioned to support airline systems, transportation safety boards, and border patrol. Applications of Volans include air safety, incident reconstruction, and air traffic control training.
To learn more about Volans, visit airportnetwork.com.